Discussion Starter
·
#1
·
Here are my two K.I.S.S. rifles.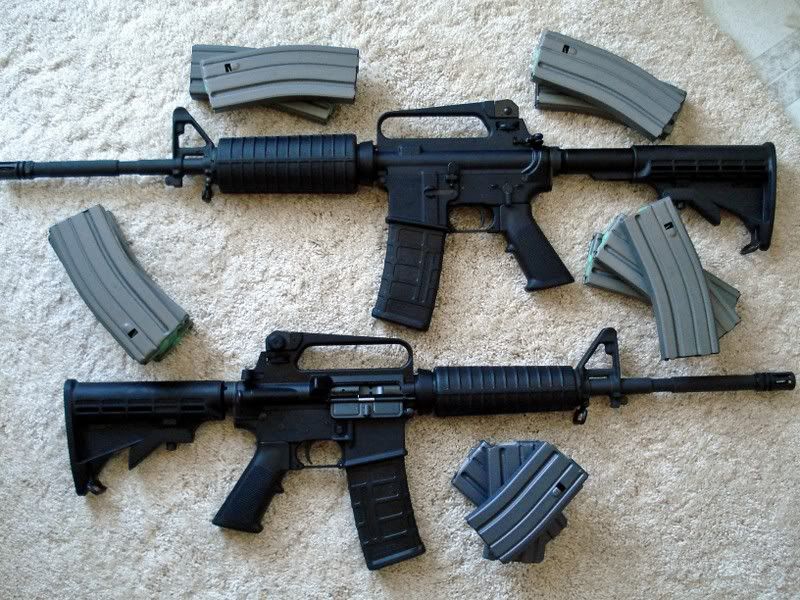 The top one was built on a Superior Arms stripped lower with a Bushy chrome lined upper. The bottom one was built on a DPMS stripped lower with a J&T chrome lined upper.
They share the following traits:
16" M4 profile bbl.
H buffer
McFarland gas rings
Wolff extractor springs & black insert
6 pos. stock
RRA lpk
The top one has M4 profile handguards, and the lower one has standard lined CAR handguards....kept pretty simple. I will probably paint the lower one, and maybe get a Hakko 4X scope to pop the occasional coyote or fox. I will order an Israeli IDF sling for each one, and maybe a Phantom FS, but they will stay pretty basic.
I can't think of how many configurations I have had in the last 18 years, from a Colt SP1 to a Bushy DCM, and just about everything in between. I usually had to try the latest and greatest thing. I had a trick Bushy M4gery tacticooled out that got sold during a messy divorce. In the quest to replace it after the storm, I started realizing how much I really liked the basic rifles. Since I am not boarding ships late at night or guarding a nuclear powerplant, I think the K.I.S.S. concept works well for me.
Anyone else happy with their simple rifle(s)?
GHILLIE